If your organization is like most, it has team members spread out in different locations serving customers in various regions, or simply working remotely in a flexible work environment. Many teams are new to working remotely due to the COVID-19 pandemic, airing on the side of caution and safety and allowing employees to work from home until it's safe to return to the office.
Now, many team members across organizations and industries are turning to video meeting apps to hold meetings as routine as a weekly team meeting or as grandiose as board meetings, making major company decisions over video. Many individuals are new to video conferencing, and there's been a learning curve as all generations get comfortable with video apps like Zoom, Microsoft Teams, and more.
Read the complete guide to video conferencing. 💻
As much as remote work can significantly benefit an organization, remote workers can feel isolated, which can ultimately impact their productivity. One of the most useful tools for increasing productivity of remote workers is video conferencing. When in-person communication isn't an option, video conferencing is preferred for feeling connected with co-workers. There are numerous applications and platforms for video conferencing and collaboration. Some, such as Cisco WebEx, are industry standards but can be expensive. Others are growing in popularity and may even be offered free or at a low cost. Here is a list of the top 10 video chat apps for enabling productive online meetings for your hybrid teams, at any price point. Each of these software options works well with the Meeting Owl Pro, and helps hybrid teams feel more connected.
What is the best free video meeting app?
These video meeting apps are trusted teleconferencing platforms that are ideal for organizations of any size. For teams who have found themselves quickly adapting to the remote work lifestyle due to COVID-19, these user-friendly apps will have you connecting with your teammates without a glitch. Each of these platforms offers free video conferencing and a range of tools and integrations to ensure your remote teams are getting the most out of their video chats.
The Best Video Meeting Apps for Teams
1. Zoom
Zoom is one of the most popular video conferencing solutions for businesses. It is feature-rich, with various plans based on business size and needs. Prices range from their free plan for personal and team meetings, to $19.99/month/host (with a minimum of 100 hosts) for large enterprises. Millions of worldwide Zoom users happily use the free plan, but if you are looking for something more encompassing for your remote teams, the enterprise-level plan includes up to 200 meeting participants, unlimited cloud storage, custom emails, a vanity meeting URL, and more.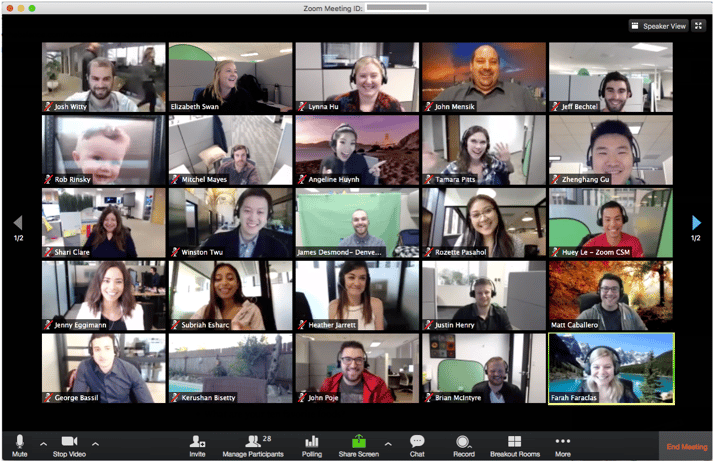 Source:Zoom

The Meeting Owl is now officially a Recommended Hardware Partner of Zoom. The Meeting Owl is Zoom's only recommended 360-degree camera and features 1080p HD camera resolution, 360-degree visual and sound, and an 18-foot audio pickup radius. Try the Meeting Owl + Zoom today.
2. Skype for Business
Microsoft's popular Skype service is augmented as an enterprise-ready video conferencing tool. It has several business features, such as allowing up to 250 attendees in a meeting, connection with other Skype users, and virtual whiteboarding capabilities.
While there are some limitations, such as the lack of an integrated dial-in audio conference feature, and lack of hardware support with online-only plans. The free version of Skype is a good tool for teams with less than 10 members, and is a simple way to make free conference calls from your computer, phone, or tablet.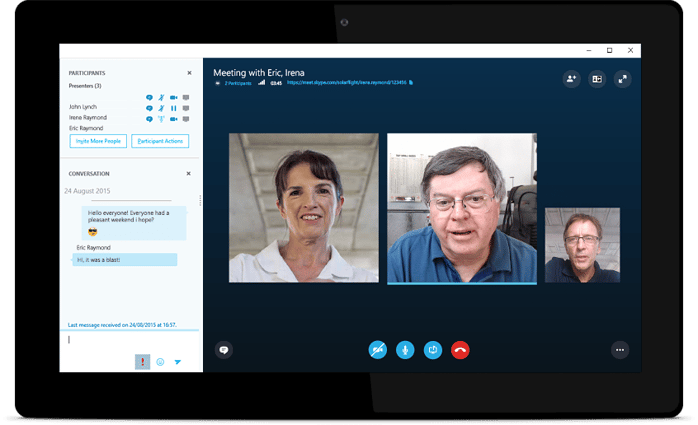 Source:Skype

3. Slack
An extremely popular collaboration tool used in organizations all over the globe, Slack has integrated video conferencing features. If your organization is not using Slack, adopting it for video conferencing probably doesn't make much sense. But, if you are already utilizing Slack, it is an easy way to make quick calls.

Video conferencing is an add-on to the functionality of Slack and can be a great tool for integrating hybrid teams. One-on-one video chat is part of Slack's free account offerings and you can Slack with up to 15 people if you start a call from a channel, but for larger meetings, customized enterprise pricing is necessary, which requires a customizable quote.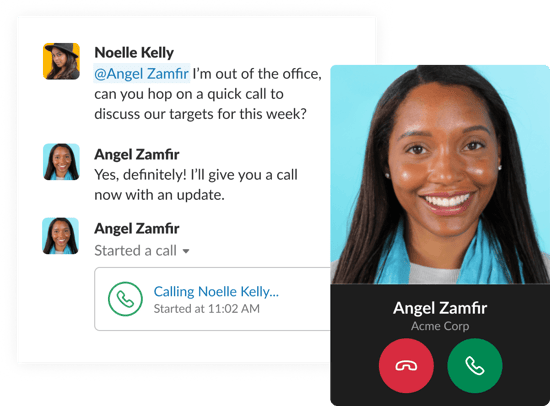 Source:Slack


4. BigBlueButton
The open-source BigBlueButton features whiteboard capability for meeting productivity and was created specifically for education and online learning. As a free open source tool, there are many add-ons and integrations through third-party developers that allow for customized web conferencing experiences, including an integration with Learning Management Systems (LMS) that will make for a seamless student and teacher experience.
Some of the free features of BigBlueButton include:
Audio and video screen sharing
The option to record sessions for playback
Breakout rooms
Collaboration tools such as whiteboard, shared notes, and polling
Source:BigBlueButton
5. BlueJeans
BlueJeans is a full-featured web conferencing app that integrates with collaboration tools. Touting a simple and modern approach, in contrast to some of the more complex services offered by competitors, Bluejeans uses a system of meetings, rooms and events to enable video meetings anywhere.
No software is required with the ability to launch meetings from a browser. Also, the service allows for easy viewing of all video conference activity in your organization. Plans start at $16.65/month/host for enterprise teams.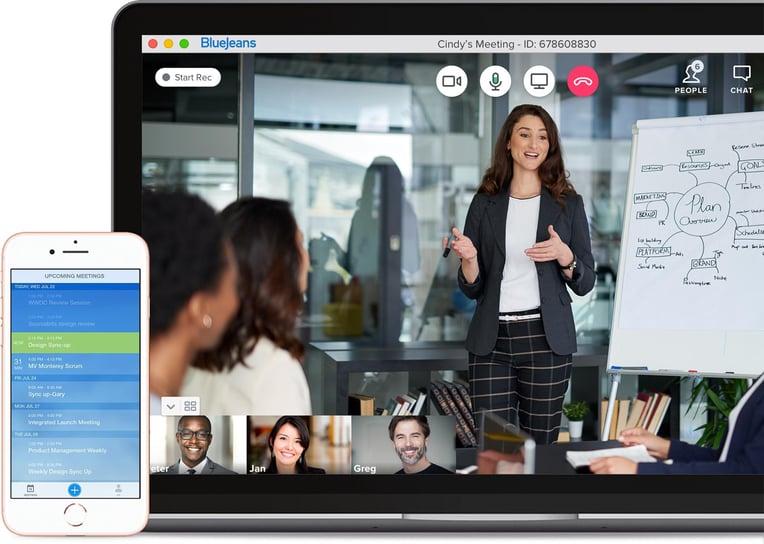 Source:BlueJeans


6. Whereby
This video chat service is ideal for small organizations that want a simple method for connecting team members. It features a fast service due to its streamlined nature.Whereby (formerly Appear.in) doesn't require an app download or login, users simply share their meeting link and anyone can join in-browser. Whereby starts free, but teams will want to pay $59.99/month, which will allow multiple users and admins.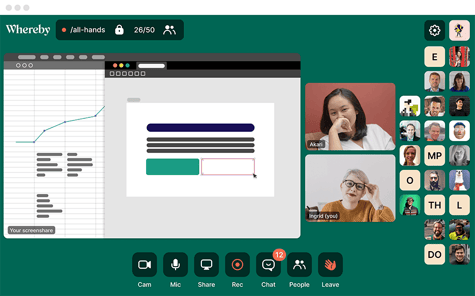 Source:Whereby

7. GoToMeeting
GoToMeeting pricing starts at $14/month for groups of up to 10 meeting participants, and costs $29/month for larger groups of 150 participants.
This teleconference tool is worth the cost, which includes features such as:
Screen sharing on desktops, tablet, or smartphone
HD video conferencing
The Smart Meeting Assistant that allows you to record meeting and generates an automated transcription
A hardware bundle kit with user-friendly video conferencing software
Business messaging that can transition from a chat box to a video call with the click of a button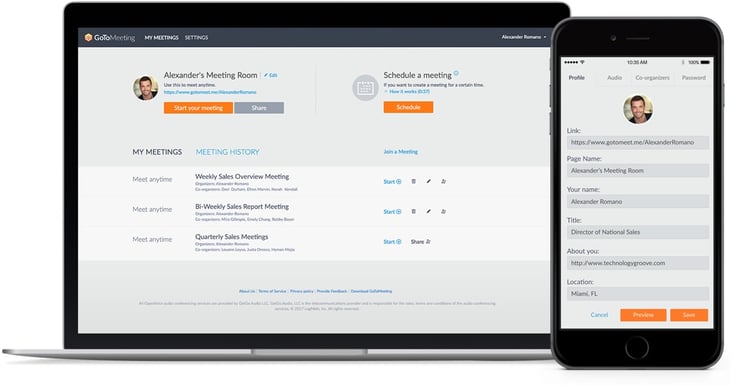 Source:GoToMeeting

8. Cisco WebEx
An industry-standard service, especially for those with a large number of team members or an exceptionally large enterprise, Cisco's WebEx video conferencing service operates like a mash-up of web conferencing and voice calling services, as it enables joining meetings online or via the phone, depending on the participant's location and ability at the time. Pricing starts at $13.50/host/month.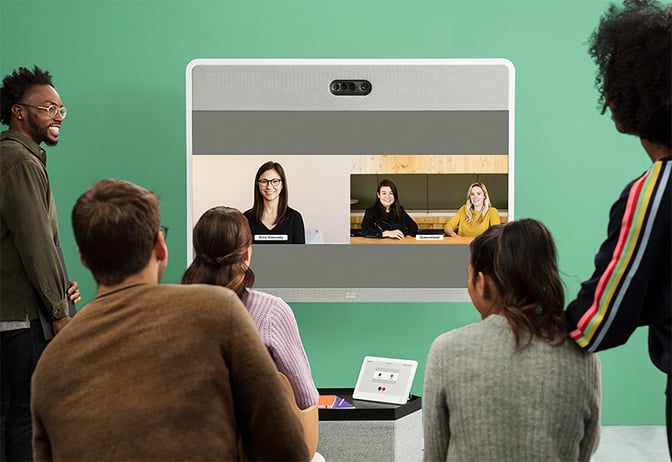 Source: Cisco WebEx


9. Google Meet
Created for enterprise customers, the Google conference call software is Google Meet. It's an upgraded version of Google Hangouts made for teams. Google Meet is designed around scheduled video meetings among team members, with similar features to Zoom like calendar syncing, conference room booking, and a more polished user interface.
To reap all the benefits Google Meet has to offer— unlimited meetings up to 300 hours long, 250 attendees, the ability to live-stream to up to 100,000 viewers, and 24/7 online support among others— you'll want to contact the G Suite sales team for your personal quote.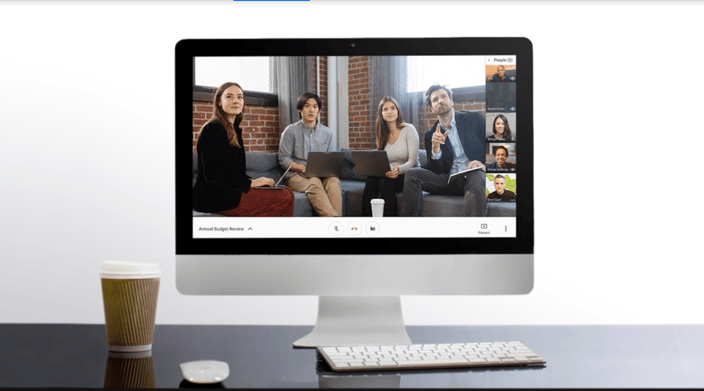 Source:Google Cloud

10. Blackboard Collaborate
Blackboard Collaborate is the video conferencing app of choice for educators. With mobile accessibility, this tool helps educators connect with students on laptops, tablets, or smartphones. Classroom licenses start at $300/year, departments at $9,000/year for universities, schools, and colleges, and enterprise options are available at custom pricing.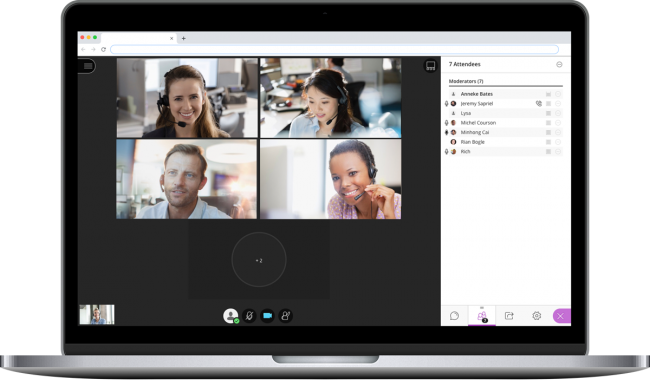 Source: Blackboard Collaborate
To learn more, read our quick guide to video conferencing technology.