Video conferencing is a staple of the modern office. With over half of global companies offering employees an option to work remotely, the way that meetings are conducted has changed. Rather than gathering the team in a large conference room or boardroom, perhaps with a speakerphone for an employee in another office, now, with the advent of fast, simple video conferencing technology, hybrid teams can have video calls with employees around the world at the click of a button.
Not all video conferencing software is designed for the same purpose. Some products, like Skype, were originally created for personal use. They advertised grandparents connecting with grandkids, friends creating relationships online without ever meeting in person, and families smiling across continents. Other video conferencing products, like Zoom, were created specifically with businesses in mind. Many companies, like Skype, have pivoted and now offer both personal and professional video conferencing options.
Now, there are dozens of effective video conferencing platforms. BlueJeans is rated as a top 10 video communication software according to G2, and stands out among competitors as an intuitive, effective platform for teams.
What Is BlueJeans?
BlueJeans is a video conferencing platform founded in 2009 that serves companies both large and small for their video conferencing and large scale video meeting needs. Cofounded by a former Apple executive, the company's original team wanted to make video conferencing "as comfortable and as casual as your pair of jeans."
They have been coined as a "poster child for video-as-a-service" and having "put video-as-a-service on the map." BlueJeans is also known for being "endpoint agnostic" as their software works with most video and audio hardware. BlueJeans offers three main products.
BlueJeans Meetings
BlueJeans Meetings is a meeting platform that allows users to join or host a meeting online. This service supports web meetings, audio meetings, and video meetings. BlueJeans' product works directly from the browser, offers integrations with Microsoft Teams, Facebook Workplace, and others, and allows you to record and share meetings in the cloud.
BlueJeans Smart Meetings
A subset of BlueJeans Meetings, Smart Meetings use data from the app to identify important discussion points, delegate to-dos, and help your team prioritize tasks after the meeting ends.
BlueJeans Rooms
BlueJeans Rooms incorporates their meeting technology in a more permanent way, making it easy for your in-office folks to quickly start a video call with those in other offices or at home.
Using either BlueJeans' all-in-one room kit, your own hardware with their software, or their hardware partners, you can tailor this solution to fit your company and meeting rooms' individual needs. Rooms offer one-touch meetings, wireless screen sharing, integrations with calendar and scheduling apps, and admin monitoring so your IT department can keep an eye on all devices.
BlueJeans Events
Designed for large, worldwide audiences, BlueJeans Events provides streaming video meetings for town halls, global company meetings, webinars, and more. This product supports up to 15,000 attendees and has features like live Q&A, polls, moderator controls, cloud recording, and more.
How to Use BlueJeans
Scheduling a BlueJeans Meeting
You can schedule BlueJeans Meetings from the web app or from your own calendar app like Outlook 365 or Google Calendar. To schedule a meeting through BlueJeans:
1. Go to the Meetings page.
2. Click Schedule Meeting and enter details like title, description, start and end times. You can also click Advanced Options to choose if you want the meeting to have a password, be encrypted, and more advanced security features.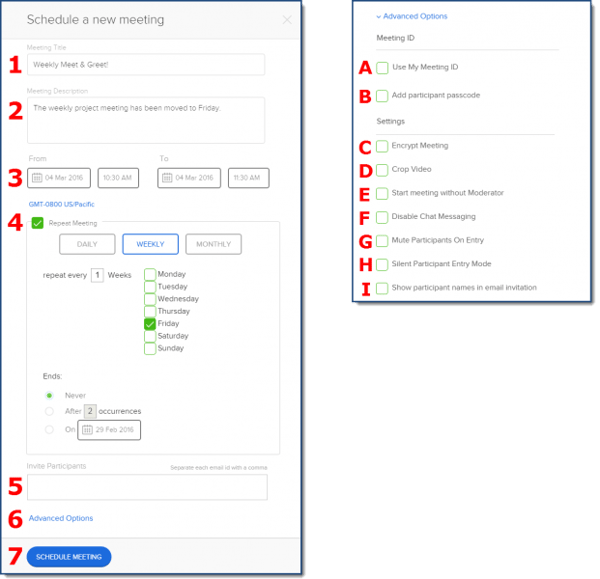 Source: BlueJeans
3. Click the Schedule Meeting button at the bottom to confirm.
Joining and Participating in BlueJeans Meetings
If you have scheduled or been invited to a BlueJeans meeting, you can join from your computer in a web browser or use the BlueJeans app (which is recommended by them).
Using a Web Browser
1. To join from an email, click the Join Meeting button.
2. Alternatively, you can join using a Meeting ID. To do this, you can either enter the Meeting ID on www.bluejeans.com in the upper right-hand corner by clicking Join Meeting (see below) or type this URL https://bluejeans.com/YOURMEETINGID/webrtc in your browser, replacing "YOURMEETINGID" with the numerical Meeting ID.
When you arrive at the following page, select Join With Browser.
Next, select your camera and audio input (microphone).
Next, you'll be able to choose if you'd like to join using your computer's audio or phone audio, then if you want your camera and microphone on when you join the meeting. Later, you'll have a chance to turn both on again using the Settings button within the meeting window.
Using the BlueJeans App
1. Join a meeting by starting a new meeting from your personal app dashboard, pictured below with a number 1 (additional meeting options are listed next to number 2, allowing you to customize the meeting). You can also join a scheduled meeting using the Join button below (number 3). If you have a Meeting ID and/or passcode, you can enter them in the Join by Meeting ID section (number 4).
2. Use the video icon and audio icon to mute your camera or microphone before you enter the meeting (number 5).
3. Make sure your video camera, microphone (audio input), and speaker (audio output) are set to the correct devices. This will help avoid an embarrassing interruption to coworkers if you're joining a meeting from your desk and the audio starts playing aloud.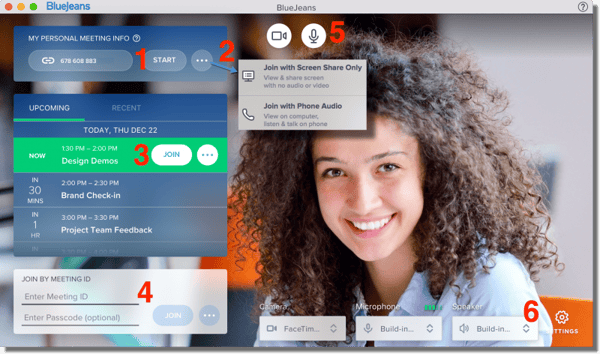 Source: BlueJeans
4. While using the app during a meeting, leverage the controls on the screen. Box 1 below shows your ability to turn off video, mute your audio, share your screen, or leave the call.
5. Click on People in box 2 to see a list of meeting attendees, and distinguish between those currently speaking and those listening. Chat is a group chat feature and apps include whiteboard tools and annotations during the call. Settings will allow you to change your inputs/outputs and features additional settings specific to the meeting's moderator/host.
6. In box 3, you can click on an individual to see their connection type and speed and as moderator, mute or remove participants from your meeting.
7. On the left, you can toggle the view using the icons next to the number 4 and adjust if you'd like to see a gallery of everyone or Speaker View, where the current speaker is at the top and there are thumbnails of the rest of the participants at the bottom.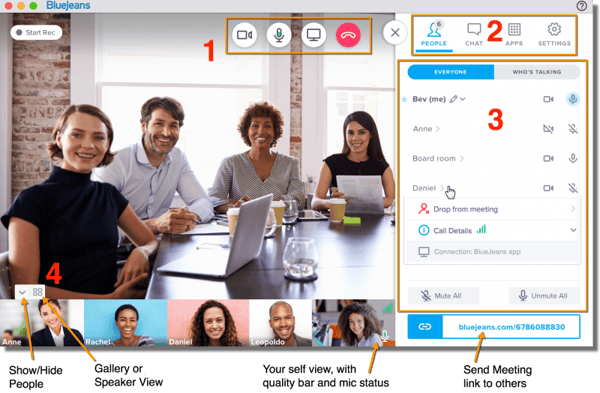 Source: BlueJeans
For more information on participant and moderator settings during BlueJeans Meetings, check out this support guide.
When it comes to connecting teammates who are near and far, the proof is in the (video conferencing) pudding. 96% of business professionals report that video conferencing improves the connectedness of remote team members and video is the preferred method of communication over phone calls, emails, and chat. Owl Labs' Meeting Owl Pro works with BlueJeans in-room video conferencing systems, making it seamless to start one-touch meetings with team members, wherever they are – it's a match made in virtual heaven.