Every year, summer seems to fly by. You squeeze in as many beach trips and cookouts as you can, but those fun in the sun days are gone in a flash. Due to coronavirus (COVID-19), 88% of office workers are working from home at least one day per week during the pandemic. While travel is limited and fewer people are taking vacations, summer will likely look different this year, but that doesn't mean you can't take advantage of time off.
The founder of Aptitude Research, Madeline Laurano, says," ... unplugging during the summer months can help employees manage the burnout of these pandemic times." Unfortunately, fewer employees are requesting time off as a result of the pandemic, even though taking a break could benefit them in the long run.
Some companies are offering employees 4-day workweeks and giving them Fridays off. OfferUp, an online marketplace, is doing Summer Fridays to give employees every other Friday off through August. Summer Fridays are when employers allow employees to take a partial day or full day off on the Fridays that typically fall between Memorial Day and Labor Day.
Whether your team is in-office, hybrid, or works remotely, your employees and company can benefit from Summer Fridays.
What Are Summer Fridays?
Summer Fridays are a type of flexible scheduling that allows employees to either leave the office early on Friday or take the entire day off. These summer hours are typically offered on the Fridays that fall between Memorial Day and Labor Day.
While some employers are hesitant to implement the practice, there are benefits to offering Summer Fridays. The primary concern is that offering time off on Fridays will negatively impact productivity. Brian Kropp, group vice president of the HR practice at Gartner, found that, " … offering your employees work-life balance can increase productivity, loyalty and employee retention." They might seem unconventional, but Summer Fridays can be a major perk for your employees.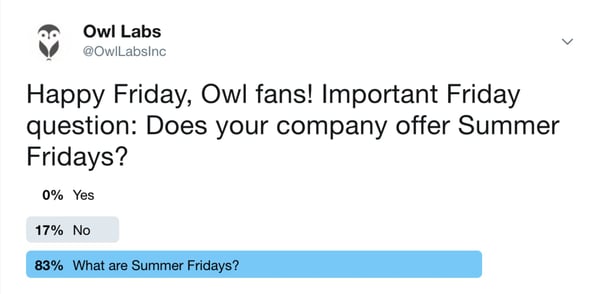 Summer Friday Policy
Interested in implementing a Summer Friday policy at your company? There are a few ways to do it, and you can pick the policy that works best for you, your employees, and the business.
Types of Summer Fridays
Depending on how your company and employees operate, you can choose a Summer Friday strategy that works best for you and your team.
1. Work Extra Hours in Return for Time Off on Friday
With this type of Summer Friday, employees work additional hours throughout the week. They keep track of how many extra hours they work, and then they can take that same amount of time off on Fridays.
2. Every Friday Off
This is one of the more generous versions of Summer Fridays. All employees have every Friday off during the Summer. This gives them a full day to take care of any errands and appointments or to kickstart a long weekend.
3. Every Other Friday Off
Instead of giving every employee the same Fridays off, stagger the Fridays that people take off. For example, half of the company would take the first Summer Friday off, the second half would take the following Friday off, and so on.
4. Half-Day Fridays
If your company can't lose a full day of productivity each Friday, consider offering half days. Workers will work for the first half of the day and then leave the office around lunchtime.
Buffer tried out Half-Day Fridays and documented their experiment. Check out Buffer's results to see how it worked and what they learned.
5. Flexible Summer Hours
Instead of restricting employees to taking time off on Friday, allow them to apply their Summer hours to different days throughout the week.
Summer Fridays give employees flexibility and allow them to make the most of the summer months. They can take time to rest and relax before the last quarter of the year. As a final thought, I'll leave you with this quote from John Lubbock:
"Rest is not idleness, and to lie sometimes on the grass on a summer day listening to the murmur of water, or watching the clouds float across the sky, is hardly a waste of time."
Now, go and enjoy your Summer Friday!
If you need some more summer reading, learn everything you need to know about flexible schedules next.