The concept of working from home has gradually integrated itself into our way of doing business and now functions as a societal norm. Although more people are working from home now than ever before, it can be difficult for teams to collaborate when everyone works from different locations. In fact, 20% of people who work remotely say they face difficulties with collaboration and communication.
Luckily, there are apps that you can use to boost your team's collaboration. Without further adieu, let's get right into it!
Team Collaboration Apps
1. Slack
Over the past decade, this Canadian communication platform has made its way to the forefront of the business world. Slack's versatility and intuitive design make it a popular choice for companies of all sizes.
It has virtually everything you need since you can use it for messaging, voice calls, and video chats making it an all-in-one communication solution. Slack prioritizes security just as much as functionality since it includes two-factor authentication (2FA) on its free plan.
The standard plan only costs $8/month for each user but brings a plethora of premium features such as unlimited app integrations, conference calls, and guest accounts. You'll also get rid of the 10,000-message archive limit by upgrading, which is a big plus.
Slack has even made provisions for those who work in the healthcare industry since the enterprise tier is fully compliant with HIPAA — ensuring you won't run into any violations when messaging and sharing files.
Source: Slack
2. Chanty
Those looking for a full-service experience even while on a free plan should check out Chanty — one of the top team communication solutions currently on the market.
This team collaboration app is free forever. Its design is centered around simplicity and intuitive usage but doesn't sacrifice functionality.
For only $1.50/month per user, you'll have access to features like video conferencing, screen sharing, and unlimited integrations. You'll also get 20 GB of storage for each user that you add versus the flat 20 GB per team that the free plan provides.
Lastly, Chanty has built-in task management that's fully integrated with the chatting aspect of the platform. You can select any message sent in the team chat, turn it into a task, and then assign it to your collaborators in just a few clicks.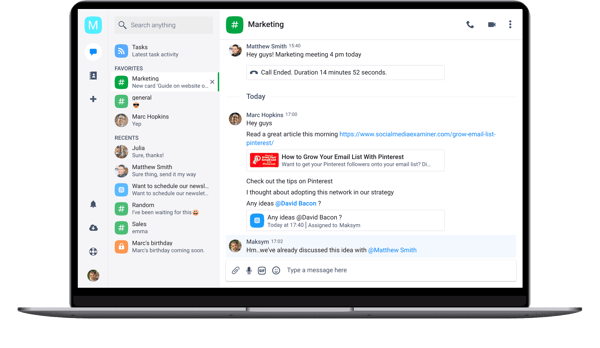 Source: Chanty
3. Monday.com
While Monday.com may not be the oldest project manager around, it has certainly done an amazing job at rising to the top of the industry and becoming a favorite amongst remote teams. Whether you work in sales, marketing, or development, Monday has the features for the job.
One of the great things about Monday.com is the fact that you'll get unlimited file storage if you subscribe to the pro or enterprise plan. This means that you'll be able to save money on cloud services like Dropbox, OneDrive, or Google Drive.
Much like Slack, Monday.com lets you protect your team using two-factor authentication which provides an extra layer of security. It has mobile apps for both iOS and Android platforms so you can collaborate while on the go.
While Monday.com is arguably the king of features when it comes to project management solutions, it can be cost-prohibitive to large companies. For instance, if you're running a team of 100, you'd pay $999/month — whereas other solutions are free or let you add unlimited users.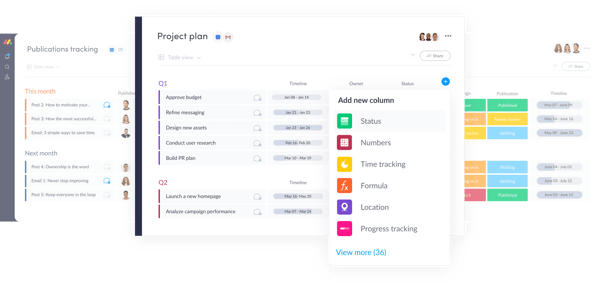 Source: Monday.com
4. ProofHub
If you need a project manager with similar features at a fraction of the price then you should check out ProofHub. You'll be able to include as many people as you want on your plan without having to pay any extra costs on your monthly/annual fee.
The essential plan costs $50/month while the ultimate control plan will run you $99/month. Be sure to pick the appropriate option for your business depending on the features that you need. iOS and Android apps are available on both plans.
You can also save $10 on the ultimate plan or $5 on the essential plan by billing on a yearly schedule. We'd recommend starting out monthly though so you can see if ProofHub works for you before shelling out a lot of cash.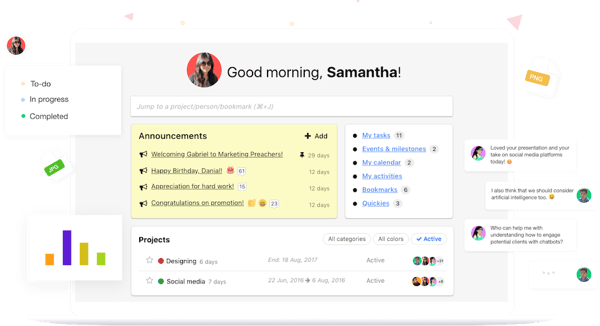 Source: ProofHub
5. Airfocus
Collaborating remotely can pose some challenges. After all, you can't just call your coworkers into the office meeting room for updates whenever you need to gauge progress on a particular project.
Fortunately, roadmaps can help you see how things are moving along and communicate your vision to team members so that they know what you expect — and, more importantly, when you expect it.
Airfocus is one of the easiest to use roadmap solutions that you'll ever use. It may be cost-prohibitive for freelancers since the solo plan will run you $29/month but it's extremely affordable for larger teams.
Those who are on the pro plan will only pay $89/month and they can add up to 20 contributors to the platform. If you need higher capacity then you can do so for an additional cost of $7/month per contributor.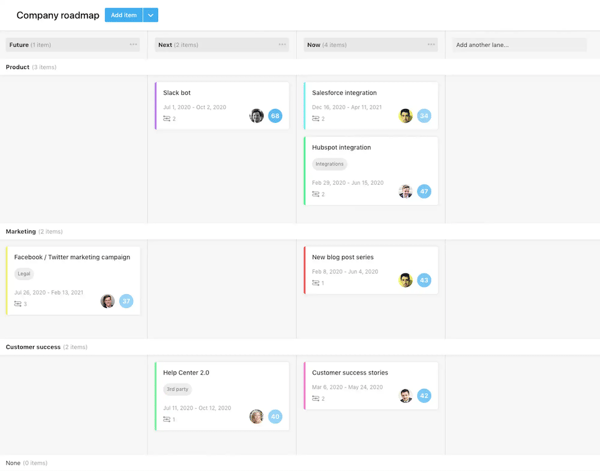 Source: Airfocus
6. Trello
Trello is the embodiment of the "if it ain't broke, don't fix it" ideology. Its Kanban board system is so simple that you can't really go wrong with it. Those on the free plan can create as many personal boards as they want without having to worry about running into any limits.
However, you'll only be able to make 10 team boards if you don't upgrade to a paid subscription. The business class plan will run you $12.50/month for each user but you can get that down to $10/month if you let Trello bill you annually.
The business class features include unlimited team boards, custom backgrounds, a calendar view, and access to over a hundred integrations. Trello is also a viable option for large teams since the per-user price drops drastically as you scale up the volume.
If you go for the maximum at 5,000 users then your per-user cost will be under $6/month. Regardless of which plan you go for, you'll have unrestricted access to the two-factor authentication feature of Trello — ensuring privacy and security on all your boards.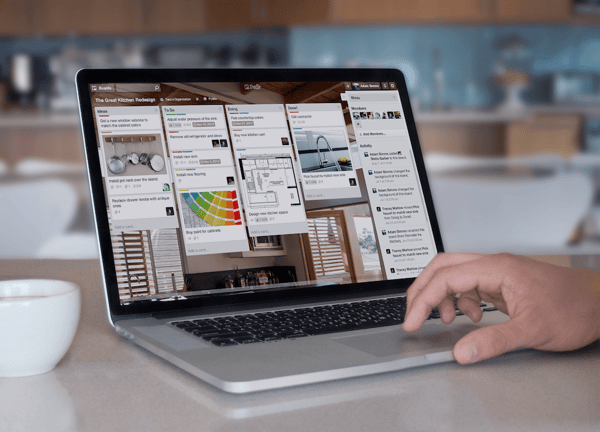 Source: Trello
7. Evernote
Evernote makes it easy to share your notes with everyone on your team by adding them to spaces that multiple people can access. It's worth noting that the spaces feature is restricted to those who are on the business plan but at $15/month for each user, it won't break the bank.
The Evernote Chrome extension lets you take notes regardless of what website you're currently on which is super convenient if you're trying to conduct research on a topic that you'll need to review later. The days of hopping between tabs to jot down notes are finally over.
Furthermore, Evernote is compatible with a wide range of integrations. These include Gmail, Google Drive, Salesforce, Slack, and Microsoft Teams. Ever wanted to save emails as a note? Now you can!
Free users can upload up to 60 MB worth of notes every month but you can bring that limit up to 10 GB by going premium for $8/month. The business plan costs $30/month for two users, has a 24 GB monthly upload allowance, and unlocks every last Evernote feature.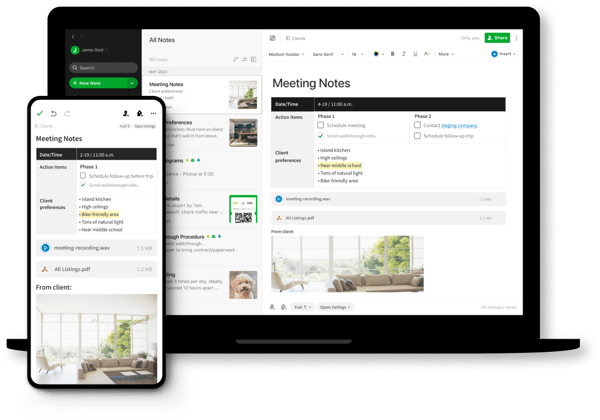 Source: Evernote
8. Nextiva
Nextiva is a leader in the VoIP space and their mobile app is extremely useful for online collaboration. It includes all the features that you'd need to stay connected with your coworkers while away from the office.
In addition to the mobile apps for iOS and Android, you can even install Nextiva on your Windows or Mac computer. This makes Nextiva the pinnacle of cross-platform compatibility and thus a very versatile communication solution.
The call pull technology ensures that you'll never have to say "I'll call you back" ever again since you can seamlessly transfer your call from one device to another without the person on the other end of the line noticing the shift.
You can even share your screen with team members through the Nextiva app which will help you convey your point and show collaborators exactly what you're seeing. Prices start at $20/month for each user with the enterprise plan only costing an additional $8/month.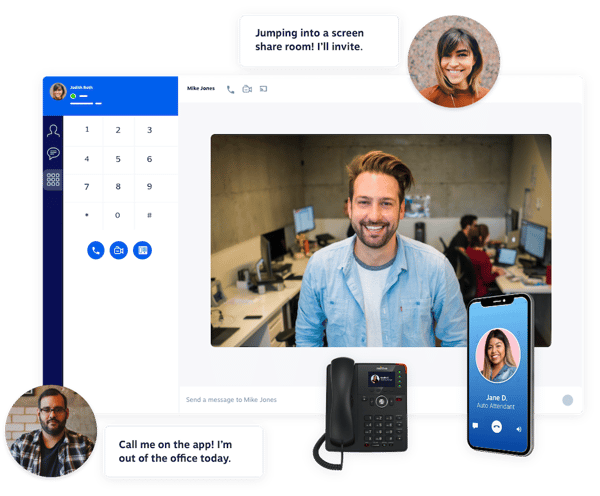 Source: Nextiva
9. Google Docs
No collaboration app list would be complete without Google Docs. You simply can't beat the seamless performance that this solution provides. You're likely already familiar with the wonders of this tool but we'll go over its key features nonetheless.
When writing on Google Docs, you'll be able to share your work with literally anyone and edit together in real-time. A team chat is also present so that you can communicate while collaborating on a piece.
Google Docs even lets collaborators suggest changes and add comments which makes it perfect for editors who are trying to provide feedback on the drafts of their writers. All changes are saved automatically so you don't have to worry about losing work to a crash or blackout.
You'll even be able to view old versions of the document and revert to them if needed. Lastly, you can convert Microsoft Word files into Google Docs without any hassle which makes the transition to the future that much easier.

Source: Google
As you can see, there's no shortage of collaboration solutions that can make your remote working experience far more effective. These collaboration apps are just the tip of the iceberg when it comes to improving team collaboration and communication. If you're looking for more, check out these team collaboration strategies for hybrid and remote teams next.