Video conferencing software enables seamless communication with your distributed workforce. Smart organizations and hybrid teams incorporate these tools into daily collaboration, weekly meetings, and other opportunities for teamwork.
While video conferencing software can improve your organization, not every product or service on the market is ideal for every business. Luckily, there are many options. Here are 10 of the most popular video conferencing software and solutions and how they have been reviewed by professionals and users.
Best Video Conferencing Software
1. Zoom
This first choice is one of the most popular. Zoom is often synonymous with business video conferencing because of its leading technology and rich features. Zoom has a stellar rating on G2Crowd, an aggregator of user and professional reviews.
It is highly recommended with very few disliked features. Some of the negatives noted by users, however, relate to the audio quality for participants who join via computer and how the system will disconnect users who do not have an upgraded account after 40 minutes.
Zoom's G2Crowd rating is currently 4.5 out of 5 stars.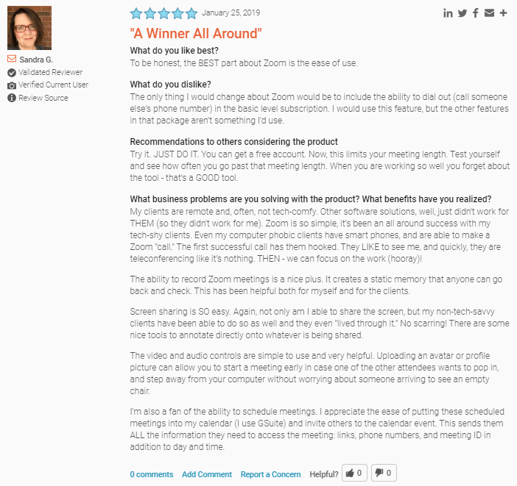 2. Google Hangouts
Google's tool for coworker chatting, Google Hangouts, also features video call functionality. Like Zoom, it is well-received by users. Unlike Zoom and some other services on this list, Hangouts hasn't achieved the popularity of Google's other services.
Both positive and negative reviews note that the service does not allow for sending multimedia documents as part of a presentation through a video call.
Google Hangouts has a 4.5 out of 5 stars rating on Capterra.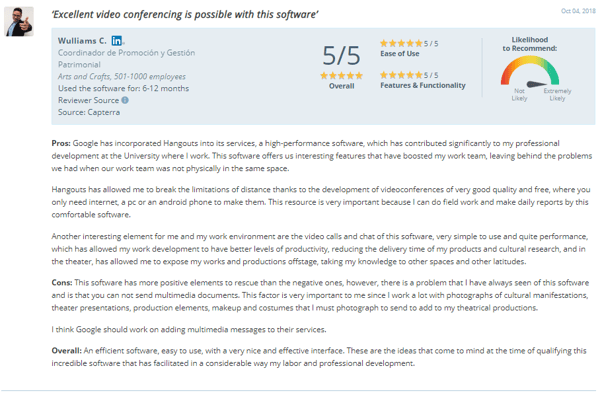 3. Skype for Business
Skype is Microsoft's video-calling software. It is well-known for personal use but has become a leading business tool as well. Skype for Business is well-regarded by business users because of easy Office integration and easy office collaboration. There are very few negative reviews, with many noting that Skype has very few holes.
Skype for Business has a 4.2 out of 5 stars on G2Crowd.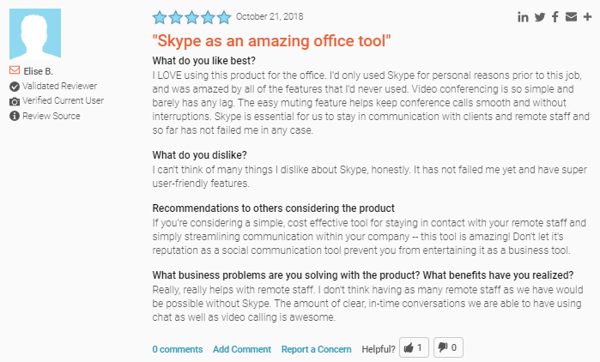 4. Slack
Slack has taken office collaboration to new levels since it became popular over the past few years. Its video calling function is gaining popularity as well. Video calling is not supported on their free plans, however. Since Slack is first and foremost an office chat and collaboration tool, its video function is an add-on that can be overlooked in favor of chatting. Reviewers love Slack's channel feature as well as the simplicity of using commands to quickly start video calls.
Slack, the overall program, has a 4.5 out of 5 stars user rating on G2Crowd.


5. Appear.in
Appear.in is a small format video chat client. Up to eight participants can be involved in video calls on the company's free plan. The primary benefit of Appear.in is how it doesn't tax computer resources. It is easy to work with, but some reviewers noted that setting the program up for your organization takes more time than other solutions.
Appear.in has a 4.6 out of 5 stars rating on G2Crowd.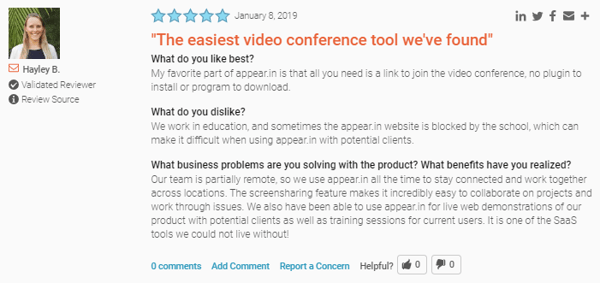 6. Facebook Live/Facebook for Business
More a broadcasting tool than a video conferencing platform, Facebook Live is an effective way to air presentations, demos, and other one-way video conferences. Although viewers cannot broadcast back, they can interact through live chat. Facebook is all about social interactions, and businesses can tap into the fact that most people have a Facebook account.
Facebook for Business, which has more features than just Live, has a 4.2 rating out of 5 stars on G2Crowd.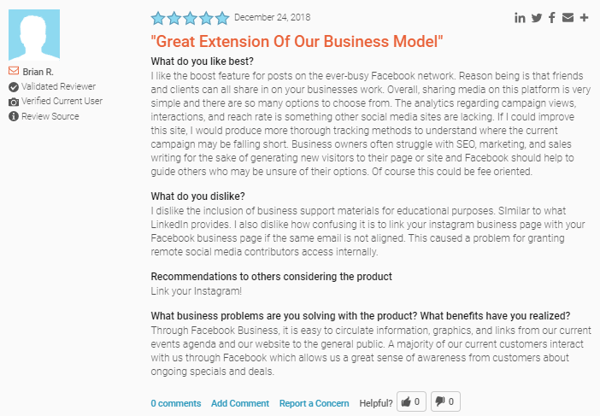 7. YouTube Live
While YouTube is the most popular video-sharing platform, its Live component is relatively new. Its features are similar to that of Facebook Live, and it is useful for broadcasting to any audience.
YouTube has a user rating of 4.5 out of 5 stars on G2Crowd.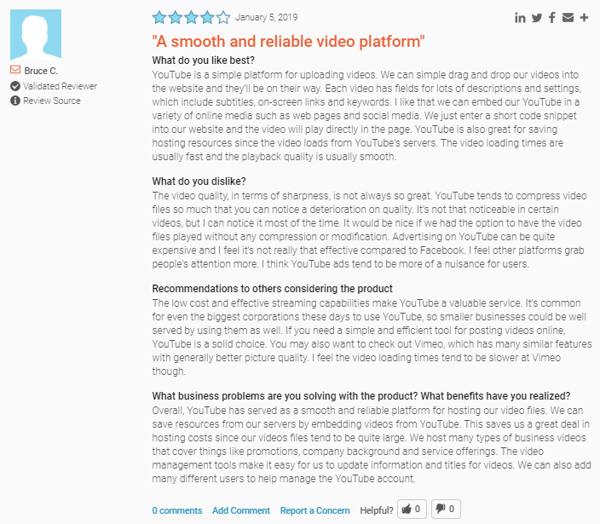 8. TrueConf Online
TrueConf Server is a lesser-known video conferencing service. According to online reviews, the software is flexible, reliable and fast. Some commenters noted that the lack of a single interface could be troubling with team members that use different operating systems.
TrueConf Server has a user rating of 4.6 out of 5 stars on G2Crowd.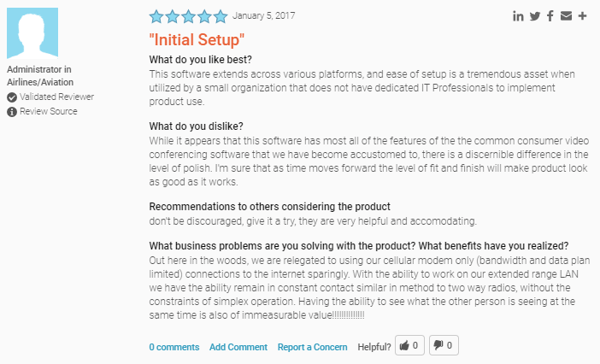 9. ezTalks
ezTalks offers a web and video conferencing service. According to user reviews, its strengths include its powerful features such as HD video and audio support and whiteboard integration. Some noted issues with audio and video syncing, and others noted limitations with the company's free version.
ezTalks has a user rating of 4.2 out of 5 stars on G2Crowd.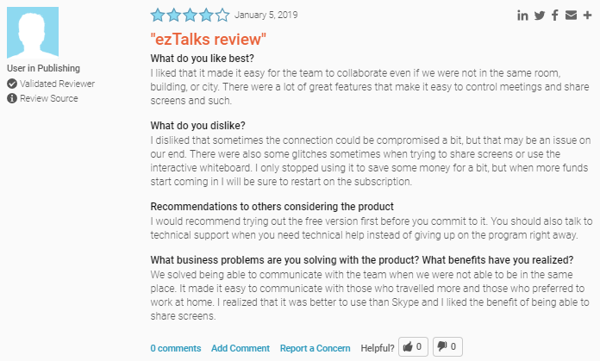 10. Facetime
For very small organizations, a group call over Apple's Facetime service can have some utility. Facetime simply connects video callers, and the ability to group chat with up to 32 participants is a new feature. Video calling from a smartphone is less than ideal for most business situations, but Facetime also runs on Mac OS in addition to iOS 12.1.
This feature has just been released, but previews of the software referred to it as a fun tool for friendly chatting.
Facetime has 4.3 out of 5 stars on G2Crowd.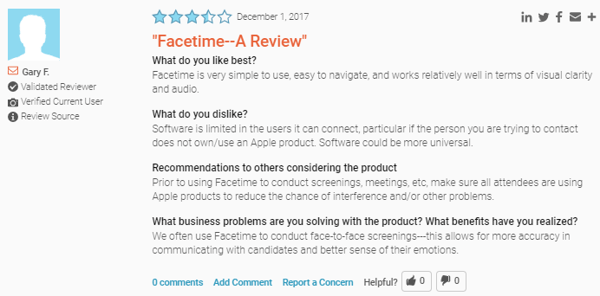 Search through G2Crowd's reviews if your team has specific needs or try to find a reviewer from your industry. Software user reviews are a great way to find the best features and glitches before making big decisions for your hybrid team's audiovisual technology.
Looking for more? Learn everything you need to know about Zoom next and check out our video conference camera comparison guide to find the best video conferencing tool for your team.