Women Work Remotely to Achieve Greater Work-Life Balance
Finally, we asked respondents about their reasons for working remotely, where we found another divergence between men and women. Women's primary reason for working remotely is to achieve greater work-life balance, which more than 40% of female respondents cited. Men's reasons for working remotely are split between achieving work-life balance (30%) and to increase productivity and focus (28%).
This difference in remote work preference could, unfortunately, be amplifying any workplace biases driving lower pay for remote working women. For example, some businesses assume that mothers who choose to work from home or take time off more frequently are de-prioritizing their work in favor of their family -- it's known as the "motherhood penalty." While we know this is rarely, if ever, the case, women who do choose to work from home for work-life balance reasons could be unknowingly confirming this bias. If true, this unfortunate cycle can only be broken by acknowledging and reducing these biases at every stage of women's careers.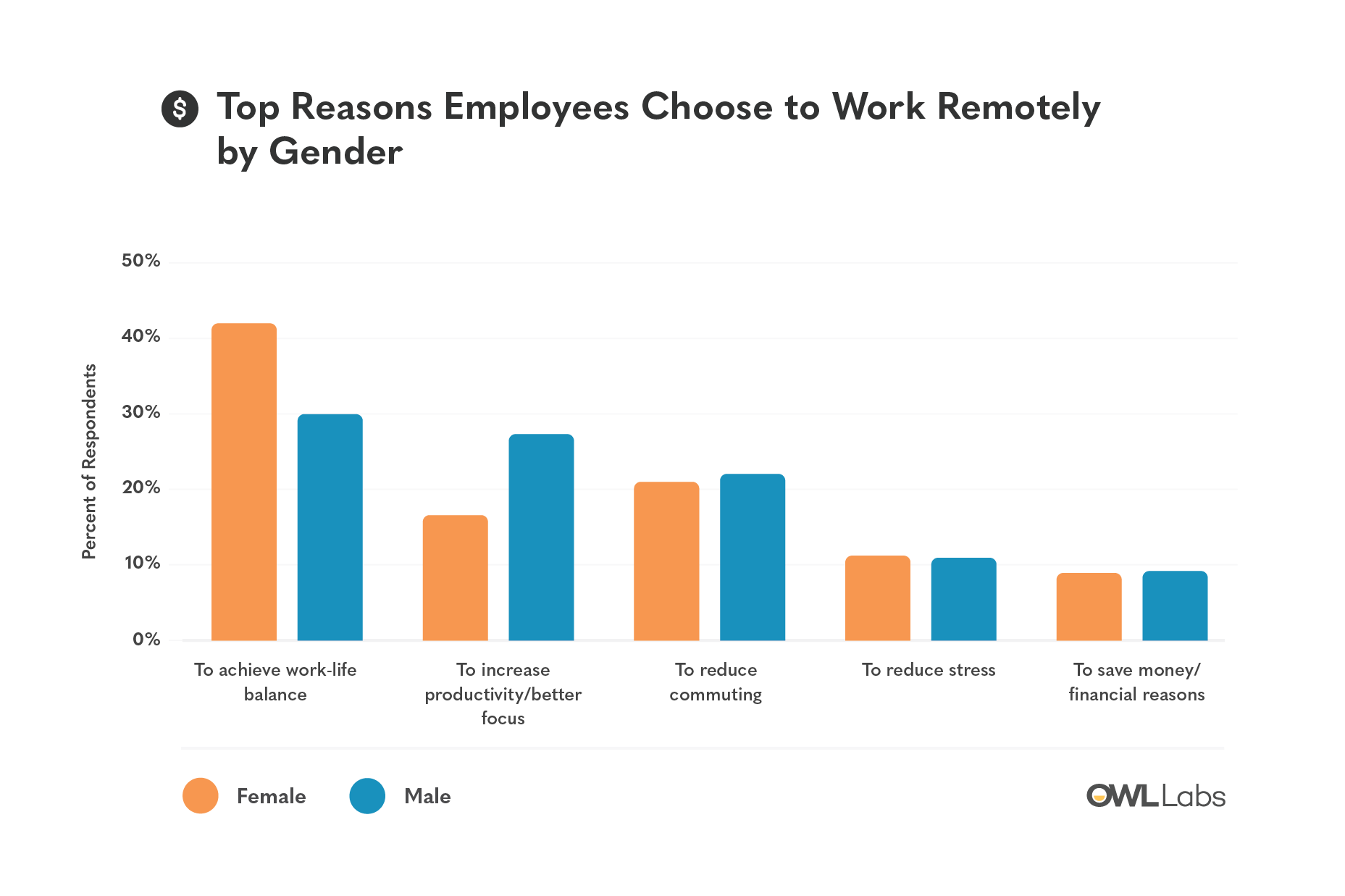 Methodology & Demographics
For this survey, we polled 2,018 full-time workers in the United States using Google Surveys. The data was collected between March 4th-March 11th, 2019, and respondents were between the ages 18-65+. Of our respondents, 52.9% identified as male, 39.4% identified as female, and 7.6% preferred not to say.

Our survey asked questions about the frequency at which individuals worked remotely, and the breakdown of respondents was: 15.8% always work remotely, 32.6% never work remotely, and 51.6% sometimes work remotely.
Conclusion
We at Owl Labs believe that, on Equal Pay Day and every day, hardworking employees should earn a salary that reflects their experience and contributions to the growth of the company they work for. Gender shouldn't play a role in compensation, but as this data shows, unfortunately, gender inequality persists among office workers, remote workers, and everyone in between. Sunlight is the best disinfectant, and greater transparency around persisting gender pay inequality is the only way to achieve better outcomes for all employees, no matter where or how they work.
Join the conversation around Equal Pay Day 2019 using the hashtag #EqualPayDay on social media.