Today we are pleased to announce the newest member of the Owl Labs team, Frank Weishaupt, as our CEO.
Frank brings his incredible experience in growing global teams and expanding markets to Owl Labs. He most recently comes to us via CarGurus, where he led his team to IPO in 2017.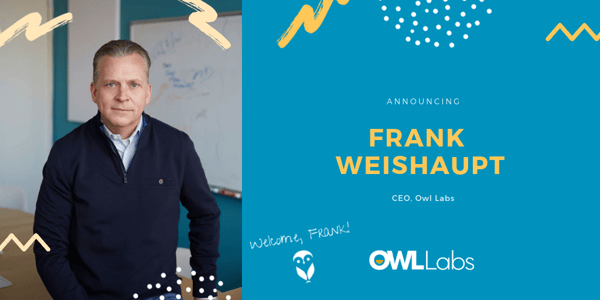 Frank joins the company at an exciting time. Today we also release our Owl Labs 2018 Year in Review, where we're honored to share that in 2018 our total customers grew by 10X. These companies had over 300,000 meetings with the Meeting Owl across 2018 -- or 280,000 hours. This is a 14X growth in meetings from 2017.
Frank has experienced the pain of terrible and ineffective meetings first hand -- in fact, he's been growing and supporting global teams throughout his career. Max Makeev is excited to continue his role as cofounder at Owl Labs leading product strategy, manufacturing, and operations.
Max shared his inspiration for cofounding the company and making the decision to bring Frank on the team on the This Week in Startups podcast today.
Along with his empathy for the remote worker, Frank brings his experience in strategic market expansion. Prior to CarGurus, Frank served as the COO at Jumptap that was acquired by Millennial Media. Prior to that, he was SVP at Criteo (2013 IPO) and a long-time executive at Yahoo!.
Antonio Rodriguez of Matrix Partners is looking forward to seeing where Weishaupt will take the company. "Frank's experience scaling businesses across industries makes him a great complement to this already impressive team," he said in the press release.
Welcome, Frank! We are thrilled to have you join Owl Labs and build upon our mission to provide remote workers with a better, more inclusive workplace experience. You're the perfect addition to the team as we work to enable and support hybrid teams, improve video conferencing, and make meetings easier