Video conferencing can improve communication and cohesion for a remote team. However, these meetings can quickly become a frustrating experience for remote participants if the technology used makes communication difficult for team members.
Negative experiences can result in disengagement and make team meetings counter-productive. This is why you need to use technology that's designed for the needs of a hybrid team, one that addresses every issue that involves effective communication.
The Meeting Owl was created to support hybrid teams of remote and in-office participants. It is a video conferencing camera designed to keep everyone in the loop.
This 360° camera connects remote team members with on-site employees by delivering a dynamic and immersive experience, leaving technology to work hassle-free and allowing your team to have effortless, natural conversations.
What Is The Meeting Owl?
Here's how the Meeting Owl can improve your video conferencing experiences. See it in action here!
360° Camera
Using a traditional webcam means you can only capture a small portion of your conference room at a time. Adjusting the position of the webcam as different team members speak is extremely disruptive and not practical.
The Meeting Owl camera is equipped with a 360° lens that captures a panoramic view of your meeting room. This creates a more immersive experience, and remote team members can see all the employees present during the meeting. And the camera captures 720p video to prevent slow streaming speeds.
Eight Omnidirectional Microphones
The Meeting Owl includes eight built-in omnidirectional mics. Using eight different microphones provides audio coverage for an entire conference room. These microphones can capture high-quality audio regardless of where a team member is, as long as they are within 12 feet of the camera.
This feature was designed with traditional conference rooms in mind since attendees usually sit around a table. It ensures that remote team members don't miss out on anything said during the meeting due to low-quality audio.
Speakers
The 360° speakers allow you to clearly hear what remote team members are saying regardless of where you are sitting in the conference room. Remote team members will be more likely to participate during meetings if they don't have to worry about technology getting in the way of their message being heard.
Combining the 360° speakers with the eight omnidirectional microphones offers a seamless experience when a conversation takes place between remote and on-site team members. The speakers also include an echo cancellation feature.
An echo is often caused by a team member's microphone picking up sound from their speaker that can make the person difficult to hear. The Meeting Owl's echo cancellation feature makes it easy to hear team members regardless of the equipment they are using.
You can easily adjust the volume of the Meeting Owl, thanks to the controls found at the bottom of the camera.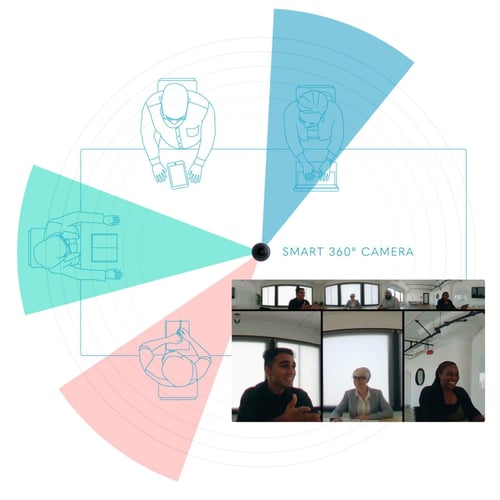 Automated Focus
The automated focus (or "smart focus") is probably one of the most interesting features of the Meeting Owl. The camera automatically focuses on the person who is talking and displays this person on remote users' screens. The camera will switch focus if another person speaks.
Remote team members have access to different split video feeds on their screen. One of these feeds shows a panoramic view of the conference room to provide context and show interactions. Another feed shows the person who is currently talking, and a third one shows the team member who spoke last.
Showing the person who spoke last makes it easy to keep track of a conversation between two team members. The automated focus mimics how one would look towards a team member when they speak up during a meeting.
It makes video conferencing more natural and prevents technology from disrupting conversations. You can use the Meeting Owl mobile app to access more features, such as the ability to lock the video feed on one speaker, for instance, during a presentation.
Easy-to-Use
The Meeting Owl will automatically download updates if it is connected to a Wi-Fi network. However, it doesn't need to be connected to a wireless network to work. You need to plug the Meeting Owl to a computer via a USB cable. You can use this smart camera with several video conferencing solutions, including Google Hangouts, Zoom, BlueJeans, Skype, Webex, and more.
The setup process is very easy. All you have to do is connect the Meeting Owl to a computer, open the video conferencing software of your choice, and choose the Meeting Owl as your camera, microphone, and speaker. The Owl's eyes will light up to let you know when the camera is on.
The Meeting Owl is a plug-and-play video conferencing camera that will make your team meetings more productive and immersive. It delivers high-quality audio for everyone involved, helps remote team members keep track of who is speaking thanks to the autofocus feature, and, overall, does a great job of delivering a seamless experience.
Looking for more? Check out this video conferencing camera comparison guide next.