Imagine a world where starting a video meeting in your conference room was as easy as clicking a button.
Savvy growth companies already benefit from this through Zoom Rooms. But still, many people are left wondering: what exactly is a Zoom Room?
What Is Zoom?
Zoom is the creator of the leading video web conferencing software platform. Its software can be used for video conferencing, audio conferencing, webinars, and chat. Zoom software can be used with desktop computers, laptops, telephones, mobile devices, and Zoom Rooms.
The 2019 State of Video Conferencing report, found that companies chose Zoom for its ease-of-use and quick setup time. Zoom software has a number of different features that come in various price and packaging models that include video conferencing, screen sharing and recording, calendar integrations and scheduling, and more. The two core pieces of its technology are:
Zoom Meetings
Zoom Meetings is Zoom's core product. Meetings are the online, video-hosted meetings that are free to join as a participant if you have Zoom video conferencing software installed on your computer or mobile device. Participants can join Zoom Meetings from different locations, regardless of whether they're joining the meeting from home, in a conference room in the office, or on their mobile phone.
Zoom Rooms
Zoom Rooms, on the other hand, are physical conference room software and hardware technology that makes meeting start simply and seamlessly. They are set up using physical hardware to run Zoom Meetings with just a tap of the button on a tablet. All of the video and audio is integrated into the conference room equipment and calendar systems.


In short, Zoom Meetings are the software that you purchase and can start using right away from your computer. Zoom Rooms are physical setups to make using Zoom Meetings as seamless as possible. With Zoom Rooms, you can enable one-click meeting start, effortless screen sharing, and more.
How to Set Up a Zoom Room
Want to know how to set up a Zoom Room? It's easier than you might think. Soon, you could be on your way to one-click meeting start and effortless screen sharing. Now, the setup process begins. Don't worry, it's not as complicated as it seems. All you need are:
Conference room camera
Conference room speaker
Microphone
Computer to run meetings (and keyboard for initial setup)
Big screen display (an HDMI-supported TV works just fine)
Touch controller (iPad)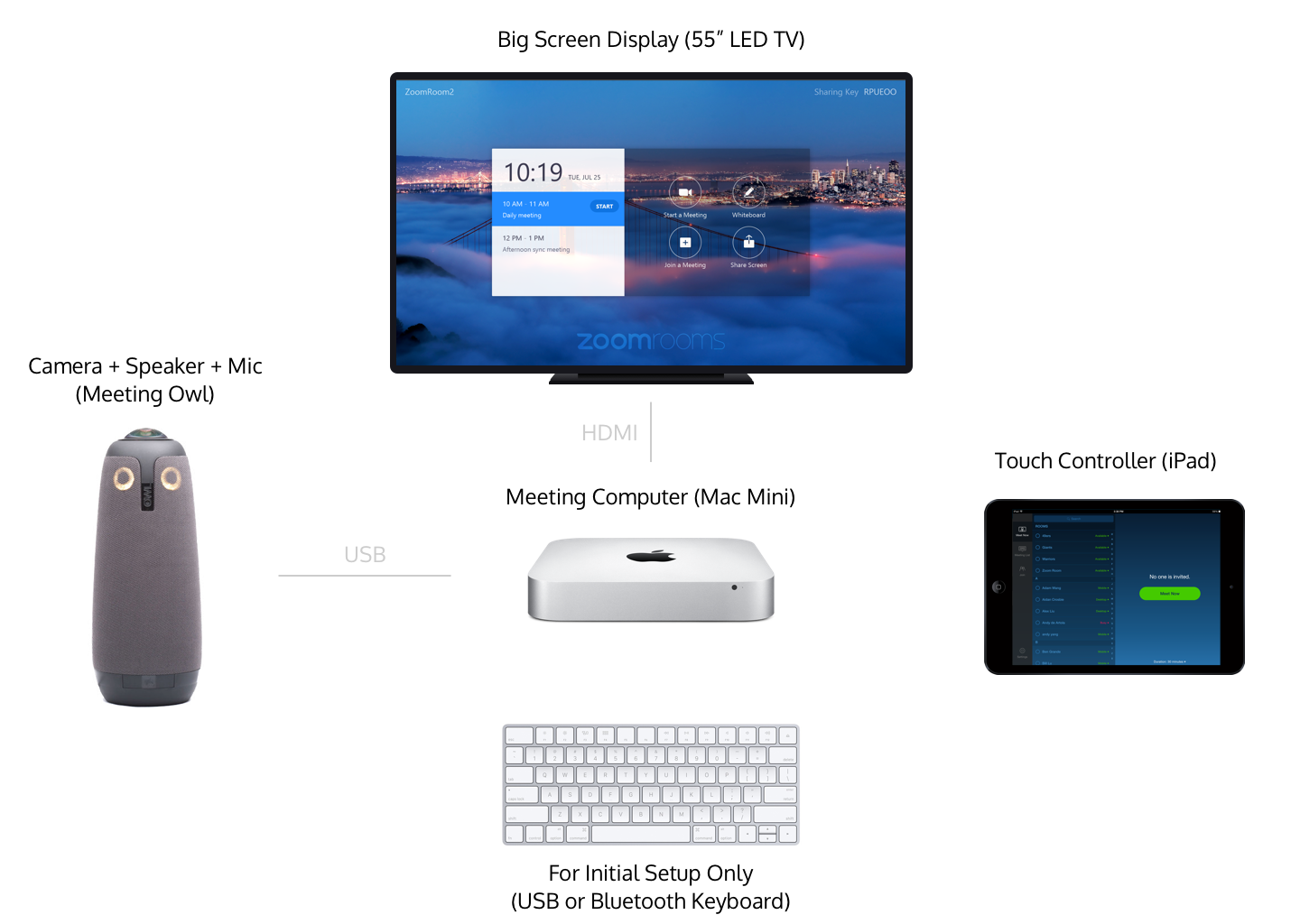 The Meeting Owl Pro improves the Zoom meeting experience for remote workers by making them feel like they're in the conference room. When you add it to your Zoom Room, your meeting space becomes increasingly intelligent over time as we introduce new Smart Meeting Room integrations and analytics and productivity features.
Need some help setting up your meeting room tech? We have a handy Zoom Room setup guide for you.