The modern office of the remote worker or flexible employee is not a cubicle or even a floor-to-window corner office, it's wherever they happen to be working that day. For many hybrid employees, those who alternate between working remotely and working from an office, they are often on the move and carry the essentials between a home office, a coworking space, and anywhere in between.
In a post-COVID-19 world, more global employees are working from anywhere than ever before. Gone are the days of a rigid daily commuting and required on-site working. With the help of virtual communication and remote collaboration tools, the future of work is flexible and growing increasingly more so with every passing day. However, one fact about the state of modern work remains the same: it's important to have a dedicated space where you are able to concentrate, work efficiently, and be creative without distractions.So, we've compiled a list of unique office spaces for anyone, as you work from anywhere.
Working From Anywhere Tips
Before we dive into examples of remote office setup ideas (aka spaces to take video conferencing calls), let's go through the essentials for any remote office.
1. Get the right equipment.
Here are the basics of what you'll need to work from home in a professional way:
Desk
Ergonomic desk chair
Strong WiFi connection
Adequate lighting (natural if you can)
Notepad & pens for jotting down quick thoughts
Noise-canceling headphones
Calendar
Organization system
Plants, art, or other inspiring and calming elements
Making the adjustment to working from anywhere if you've previously worked primarily in an office environment can be a big change. It takes motivation, strategy, and support from your manager and organization to succeed in working independently and creating your own schedule. Environment plays a major role in those who are able to easily make the transition to telecommuting. So, start by creating the "office" environment that stokes your productivity and creativity.
2. Create a routine.
Sam Mallikarjunan, CRO of Flock, says, "Have a place you go specifically to work. It could be a certain table, chair, local coffee shop -- some place that's consistently your 'work space.' It helps you get into the right frame of mind."
Creating a routine and having a dedicated work space can be a good way to enter work mode when you need to and go back to your personal life when you leave that space. When you're setting up your remote office, make sure you choose a location that's quiet, free of distractions, and distinct enough from the rest of your routine so you can truly feel like you're off the clock when you stop working for the day.
Although you aren't traveling to and from the same office everyday anymore, some semblance of a commute should still be in your schedule. For example, if you are working from home there should be a clear distinction between your "home" space and your "work" space.
3. Keep your work in the cloud so you can work from anywhere.
Klaus Sonnenleiter, CEO of PrintedArt, suggests using virtual desktops and cloud-based document storage to help you work from anywhere, anytime. Tools like Google Business Suite and Dropbox help to keep files organized and allow for team collaboration from any location. The key to successfully working from anywhere is being accessible from anywhere. When you utilize cloud-based tools you are opening yourself to being more accessible by your team members, leading you to become just as productive wherever you are as you were on-site.
4. Don't avoid meetings.
Working remotely doesn't have to mean sacrificing face to face interactions or productive, heads-down working time at home. Rory Sutherland, Vice Chairman of Ogilvy, a huge advocate for video meetings, advises, "When you're at home, rig up a good video setup with nice headphones, a quality microphone, and lighting. And devote blocks of time to video calls. One of the things that emerges from the research is that switching costs are high. If you switch from a physical meeting to email to another email on a different subject to a calendar to a video meeting to another email – every time you switch modes, you waste time. Have dedicated blocks of time for virtual contact and dedicated blocks of time for face-to-face contact."
With so many video conferencing platforms to choose from, selecting the right one for your needs could make or break your involvement in remote face to face interactions. No matter the industry you work in, to take your next virtual meeting to the next level, try pairing your video conferencing platform with a smart camera like the Meeting Owl Pro.
Remote Office Ideas
Home Office Under the Stairs
For Today's Executive
Couple Coworking Status
Customized Coworking
Giant Wall Calendar for Visual Learners
Hideaway Office for the True Minimalist
Chalkboard Walls for Creative Remote Workers
The Outdoor Office
The Mobile Office for the Digital Nomad
A Standing Desk Setup
1. Home Office Under the Stairs
To create an efficient home office using a small amount of space, set yourself up beneath a staircase (think Harry Potter origin story but chic and with way more natural light). This innovative setup incorporates a storage area, desk and workspace, and even plants if surrounding yourself with a little green is the secret ingredient in your personal productivity stew. By adding built-in shelves and a small desk chair, this creative area includes everything needed to work from home in about 18 square feet of space.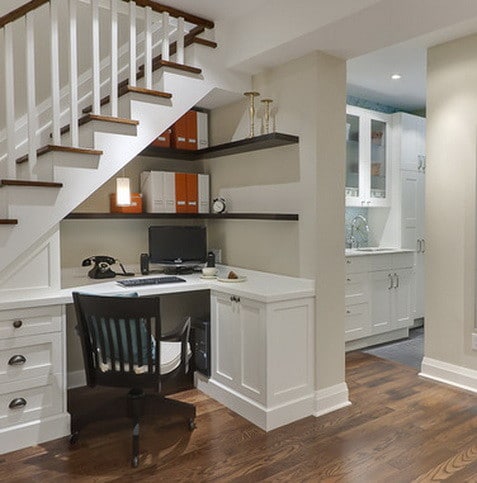 Source: Remove and Replace
2. For Today's Executive
The population of executives working from home is growing. When done correctly, home offices can reflect prestige and exude leadership, providing a stately backdrop for video conferencing calls and meetings. The home office featured here subtly incorporates ample storage in hidden cabinets and shelving.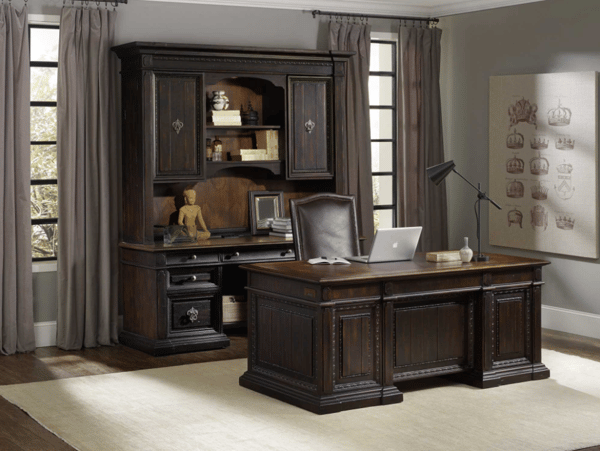 Source: Luxe Decor
3. Couple Coworking Status
Couples and roommates who share a workspace together, stay together! If you and your living partner are both embracing the work from anywhere lifestyle, you may want to take advantage of the opportunity to turn some spare space in your home into a personalized coworking space. This shared workspace at home is just like a coworking space, but instead of sharing space with like minded strangers, you are sharing space with your likeminded roomie. With clearly defined areas, both individuals can focus and stay organized while maintaining remote work-life balance.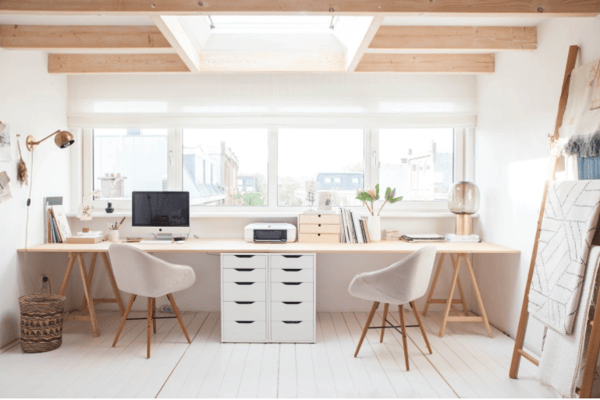 Source: Home Designing
4. Customized Coworking
Speaking of coworking spaces… some days when you are working from anywhere you may choose to work from a coworking or flexible workspace. Depending on your membership plan, your coworking workspace may look like a few different things. If your membership provides you with a dedicated desk or private office, don't hesitate to spruce up your space with some greenery or your favorite inspirational art pieces. If you'll be sitting at a different desk each time you visit, there's still no need to sacrifice what makes your workspace unique, bring along a framed photo or two to prop up next to your laptop for some extra personalization.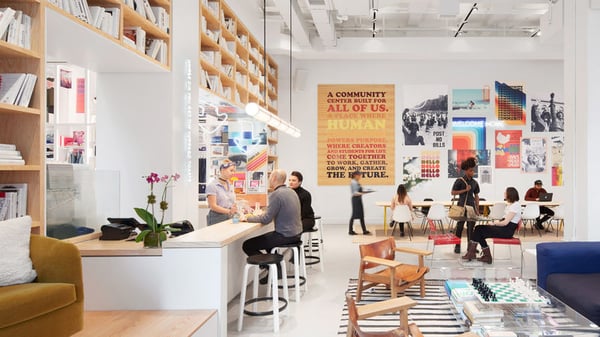 5. Giant Wall Calendar for Visual Learners
Visual learners are more likely to work from anywhere for increased productivity and better focus. What better way to enhance productivity than to utilize a flexible work schedule that lets you be creative no matter where you set up shop for the day? If you are a visual learner, try hanging a giant wall calendar up in your remote office to jumpstart each day with a sense of renewed purpose.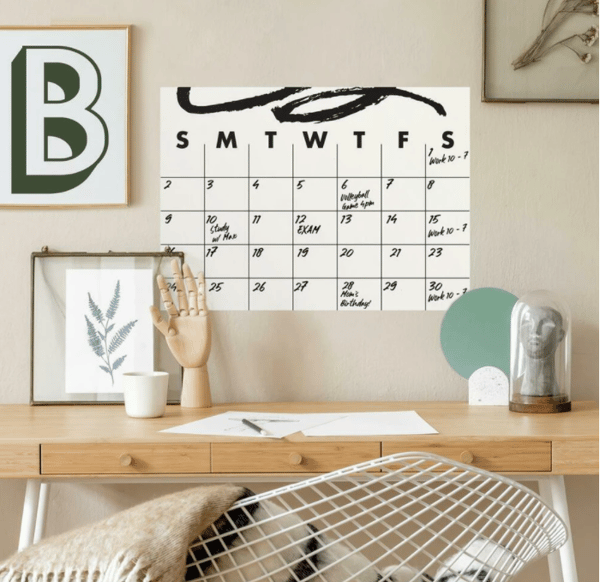 Source: Roommates Decor
6. Hideaway Office for the True Minimalist
For the minimalist (or space-conscious) digital nomad, try a hideaway desk that allows you to quickly jump from work mode to home mode in no time at all. When you can be in or out of the office with the closing of a cabinet, who knows what you will be freed up to accomplish? This convenient desk area will never gather clutter and help you take video calls or be productive in a distraction-free environment.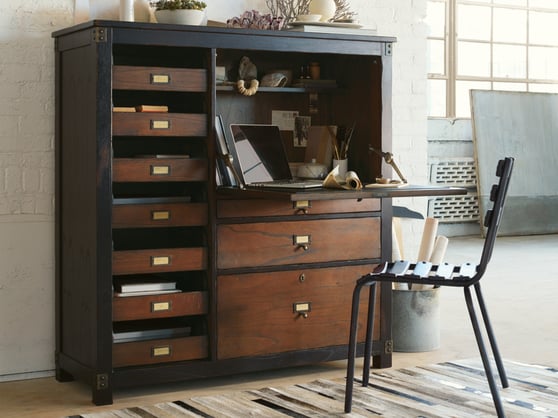 Source: Arhaus
7. Chalkboard Walls for Creative Remote Workers
Putting up chalkboard walls is as easy as applying a new coat of paint. If you've got yourself a blank wall just waiting to be repurposed into a multi-functioning backdrop for your next virtual meeting, try decking out a space in your home with chalkboard paint. Your chalkboard wall can double as a wall calendar, to-do list, or creative outlet.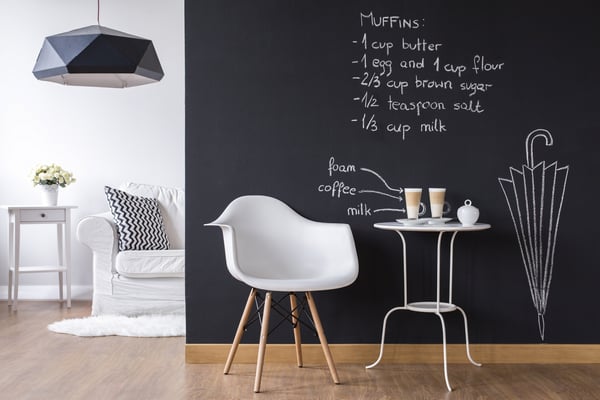 Source: Select Painting
8. The Outdoor Office
For those lucky enough to live in temperate environments, you can set up your remote work space outdoors. When setting up your outdoor office like this creative, floral space, make sure you have WiFi that extends outdoors, or a router that can stretch your signal. Once you have secured your WiFi connection, all you need to enjoy your outdoor office is a pair of sunglasses and a layer of SPF.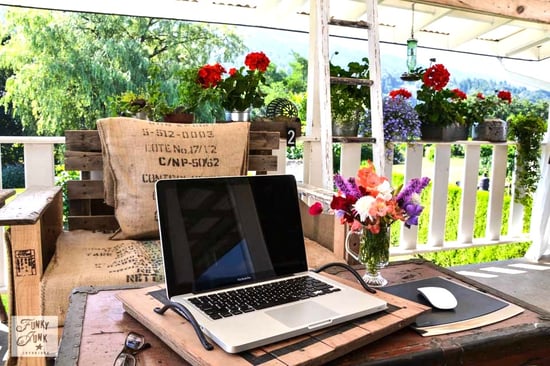 Source: Funky Junk Interiors
9. The Mobile Office for the Digital Nomad
Today's work from anywhere culture allows for some creative solutions for those that want to live on the move. Hitch this mobile office right onto your method of transportation, and you'll have dedicated office space anywhere you want. Because when you can work from anywhere, why not work from everywhere?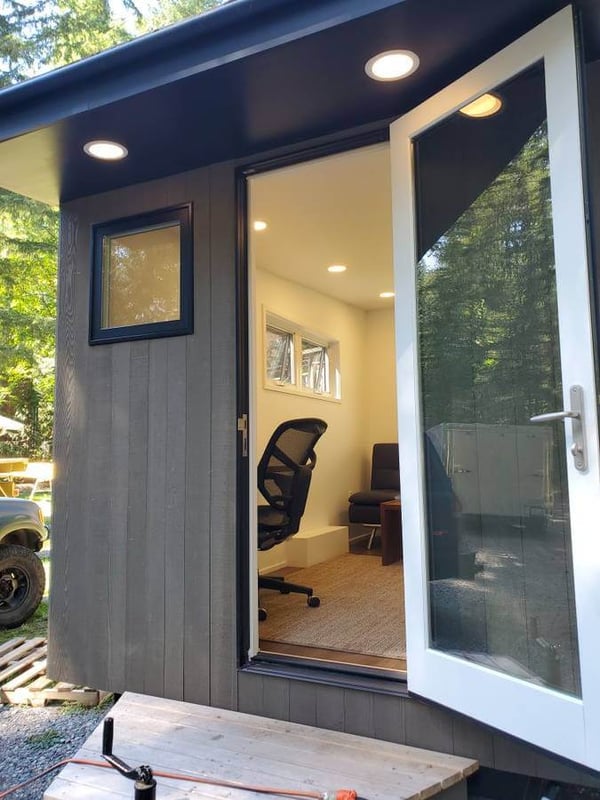 Source: Tiny House Talk
10. A Standing Desk Setup
What is more indicative of the work from anywhere movement than a desk you can literally work at from any position? It's no secret that standing desks keep you more alert while working, and this alternative to sitting all day is an easy way to keep your health on track. With a portable standing desk at your fingertips, the world is your office.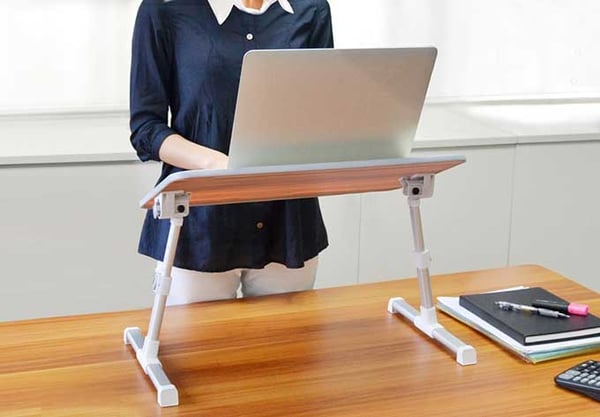 Source: Cool Tools